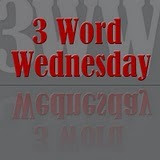 This week, the words are: grip, prefer, thread. Finally, I have this.
My grip on his hand - His grip on my shoulder - my
grip
on reality. I follow this fragile
thread
of sanity. What do I do without him? This must be some kind of mistake - a bad cosmic joke. Why am I still breathing when he is not? No, no thank you, I do not wish to come out and be among the guests. I
prefer
the silence here, where in the stillness I can still hear his voice.